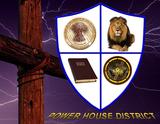 POWER HOUSE DISTRICT CREST
&
DISTRICT AUXILIARIES DEPT. HEADS!
ELDER DAVID JOHNSON
DISTRICT DIRECTOR OF MISSIONS DEPT!
Power House District Church Mother's Dept.

District Head Church Mother

1st Lady Of New Beginnings Church Of God In Christ

Evangelist Missionary Gloria Johnson
District Director Over Public Relations
And District Director Over The Elders & Pastor Wives Dept.
1st Lady Loretta Hutcherson
"SISTER JOY TORRESS NEWLY APPOINTED

DISTRICT DIRECTOR OF PURITY DEPT."